ProGlove INSIGHT Mobile is an app that enables a fast and flexible integration between your Android enterprise applications and the ProGlove system.
This diagram provides an overview of how INSIGHT Mobile functions relative to your business applications, other ProGlove devices, and the INSIGHT webportal.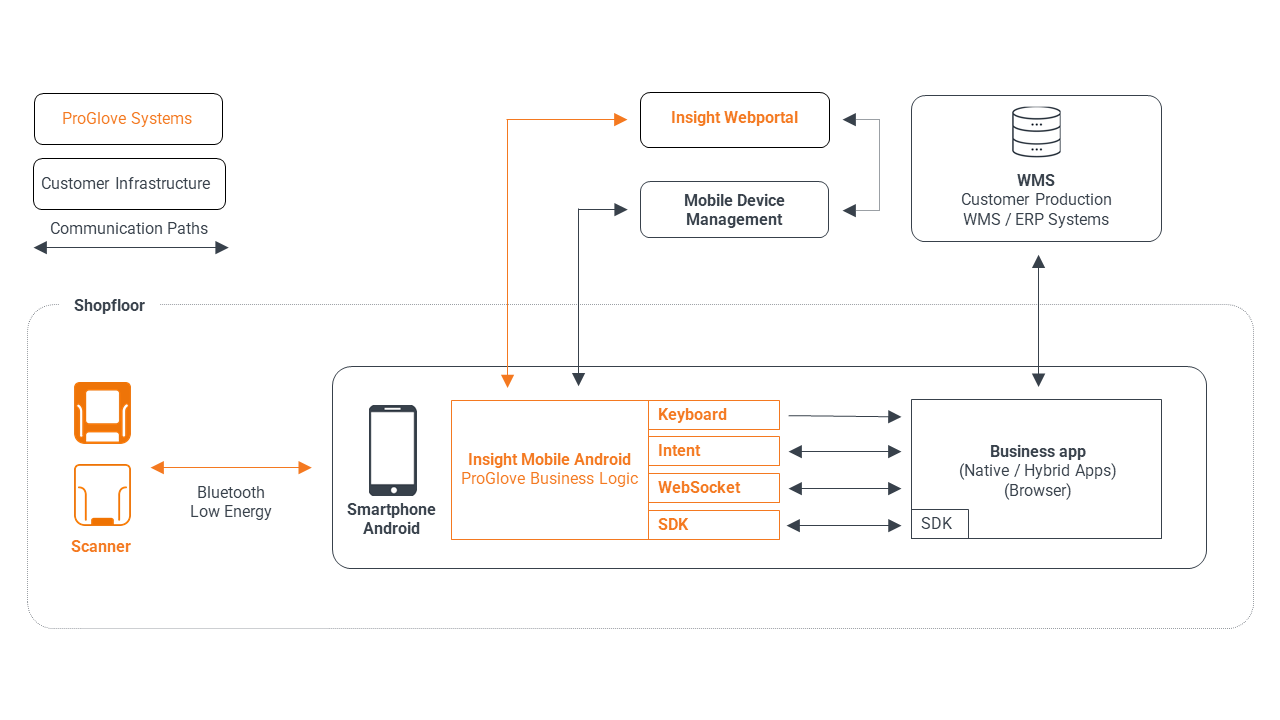 To get started, log in to INSIGHT webportal and download INSIGHT Mobile (Android).
Device and system requirements
The sections below list the scanning and Android devices supported by INSIGHT Mobile as well as their system requirements.
Supported ProGlove devices:
MARK Display mid range

MARK 2 standard range

MARK 2 mid range

MARK Basic standard range

MARK Basic mid range

MARK 3 - multi range

LEO - the lightest Proglove scanner

HandScanner - standard range

HandScanner - mid range
Note
We recommend downloading the latest firmware version for your ProGlove scanners. Scanner Firmware Gen1 version 1.2.0 is the minimum required.
Android device requirements:
The Android operating system must be updated to version 6.0 or higher (Android 8.0 is recommended)

The device must contain a module that supports Bluetooth Low Energy (BLE) specifications.
Note
Behaviours may vary depending on the device and Android version.
INSIGHT Mobile (Android) was tested on the following device configurations, which are recommended:
Samsung A20

Samsung Tab Active2

Samsung J5

Unihertz Atom

Unitech WD100

Zebra TC20

Zebra TC51

Zebra WT6000

Datalogic Memor 20

Motorola X4.